Daily Devotion Wednesday August 16, 2017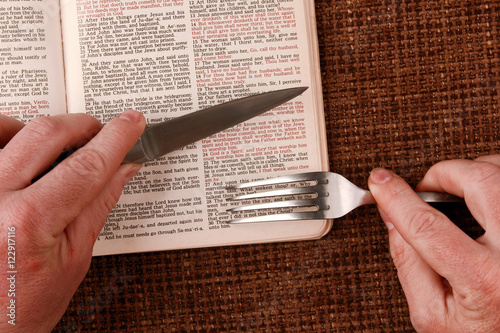 [Note: If you find this site enriching, do not forget to subscribe to it and support this ministry. Thank You]
---
"Blessed are those who hunger and thirst for righteousness, for they will be filled."
Matthew 5:6
About ten years ago, I attended a congregational fasting where we went to a solitary place (a prayer mountain) for a whole day's prayer without eating or drinking. During the beginning session of the day's program, the prayer leader tried to inspire us by assuring us that letting food go for the course of Christ and spiritual nourishment is rewarding. He read to us Matthew 5:6:
"Blessed are those who hunger and thirst for righteousness, for they will be filled."
This portion of scripture the prayer leader read is one of Jesus' teachings in what has now emerged to be the beatitudes. Although our prayer leader didn't do his best to make us understand this verse well, he did his best to make us ready for that day's fasting. Albeit, in a way the prayer leader was right—to hunger and thirst for righteousness includes abstaining from food. Although "Matthew emphasizes yearning for God's righteousness more than for food and drink, perhaps also implying that those who hunger physically are in a better position to begin to value God more than food (Mt 5:6; this may include fasting)" (IVP New Testament Commentary).
However, there is more emphasis on passion for God, longing for him more than physical for daily foods and drinks. This is the kind of longing Job describes in saying; "I have not departed from the commands of his lips; I have treasured the words of his mouth more than my daily bread" (Job 23:12). Similarly, David writes of his longing for God:
"As the deer pants for water, so I long for you, O God. I thirst for God, the living God. Where can I find him to come and stand before him?" (Ps. 42:1-2 TLB).
Without an inner longing for God, physical abstinence from food and drinks is futility. Without an inner longing for God, fasting all day and night may not add any spiritual value to our lives. True fasting from food and drinks must be a result of passion for God, a longing that is able to make us look to God more than to our physical needs. And, when we have such passion and longing for God, he will indeed fill us—our spiritual hunger and thirst will be met and, the other physical needs too.
In in a way, Jesus expounded on this beatitude in the next chapter (Matthew 6) by saying; "So don't worry about these things, saying, 'What will we eat? What will we drink? What will we wear?' These things dominate the thoughts of unbelievers, but your heavenly Father already knows all your needs. Seek the Kingdom of God above all else, and live righteously, and he will give you everything you need" (Matt. 6:31-33 NLT).
In principle, beatitude four "blessed are those who hunger and thirst for righteousness" is all about putting God above our physical needs, it is about letting passion for God be our ultimate longing in life. And, when our passion for God makes us seek him more than we seek our physical needs, then both our spiritual and physical needs shall be met. Amen!
Rev. J
_________________________
Support: Sign up to become a Patron of New Dawn Ministries to support this site through Patreon. You may choose to pledge a one time support or monthly support with any amount. Your donations will help sustain this site. Thank you for supporting this ministry. You can also make a donation through Paypal.
---
Unless otherwise indicated, all Scripture Quotations are taken from the Holy Bible, New International Version (NIV) 2011.
Rev. Julius Izza Tabi is the founding Director of this online New Dawn Ministries. He holds a Master of Philosophy in Religion, Society and Global Issues from the Norwegian School of Theology. Julius also is a pastor in the Anglican Diocese of Ma'di and West Nile of the Church of Uganda who believes that God's timeless truth of salvation must be preached to all Nations. Help Donate here to support the New Dawn Ministries. You can also support this ministry by purchasing Julius' popular books Triumphing Over Odds and Suffering and Pain? from Amazon. Thank you.